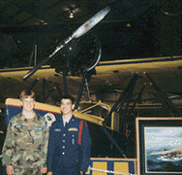 Thames River Squadron currently has an extremely active cadet program, with more than forty active cadets.
In the last six months we have had two Emergency Services Schools (ESS) and one Non-Commissioned Officer School (NCOS). ES Schools teach first aid and CardioPulmonary Resuscitation (CPR), map reading and compass skills, knots, etc. NCO School teaches proper presentation skills, and leadership techniques.
On a nightly basis we work on the basics: drill (coordinated group movement), aerospace and leadership classes that rotate throughout the month, and moral leadership classes that provide a place for cadets to share their views in an open environment.