Squadron Activities and
Notifications
Week of March 19, to March 25, 2000

Meeting for both seniors and cadets is Tuesday,
March 21st
LAST UPDATED WEDNESDAY, MARCH 15th, 2000

BDU UNIFORMS THIS WEEK


Monthly Cadet Schedual Promotions
•The cadet meeting will run from 1800 hrs to 2030 hrs-be there at 1750.
•The senior meeting will run from 1830 hrs to 2030 hrs.
•The Senior meeting on the 4th Wednesday of every month will run from 1900-2030
-This week is in BDUs-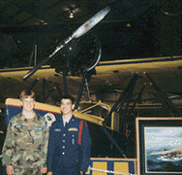 MSGT Karpel and SGT Walker at the New England Air Museum. In the background is a former CAP seaplane.
SITE LAST UPDATED 031500